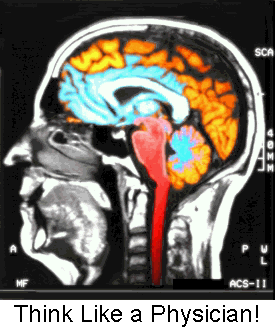 This site offers FREE guidance, advice and commentaries to help you better understand and prepare for the USMLE, Step 1, Step 2CK and Step 3, as well as COMLEX Level 1 and Level 2.

Doing well on the USMLE is not just a matter of studying hard, but of learning how to "think like a physician." In this site we apply what we know about medical education, cognitive psychology, and basic neurological processes to help you to do your best on your most important exams!

Access to current articles is a easy as clicking on the topics on the left margin. These articles address a range of common issues that students ask about when preparing for USMLE and other medical related exams.

1. A new article was just added to the section on "Handling USMLE Questions" (written with the help of Dr. Philip Tisdall, M.D.)

2. An article was added to the section on "USMLE Study Advice".
Check out or Blog featuring past articles!
Lin
k at the top left of this page
. Blog address at top of the page. Additional articles and commentary are added periodically.
USMLEthought.wordpress.com
Submit questions that you want answered or suggestions for future commentary by using the e-mail address at the top of the page.
Think about how you are preparing and learn to do it better. Remember, it's not what you know, but how you think that makes the difference in your score!
Steven R. Daugherty, Ph.D.
Visit these useful sites:
https://www.medicalschoolcompanion.org/
Very useful, low-cost resources for USMLE and COMLEX preparation.

USMLEforum.com: The largest site for communication among students preparing for USMLE

NBME.org: Official site for the group that produces the USMLE
NBOME.org: Official site for the group that produces the COMLEX